About ViraFend® Virus Defense Formula
ViraFend® is a unique natural supplement whose active ingredient – Activated Humic Acid – has been demonstrated to be a significant Virus Attachment Inhibitor, in that it works to interfere with a virus' ability to complete its attachment to a human host cell. If a virus, such as the Herpes virus (which causes Cold Sores and genital herpes outbreaks if the virus reproduces unchecked in the human body), or the Flu virus, or the Shingles virus (H. zoster), or many other viruses, cannot attach to a human host cell, they are unable to insert their genetic material into the host cell, and cannot trick the host cell into acting as an incubator to reproduce the virus.
ViraFend® has been demonstrated in numerous scientific studies to effectively 'coat' the outside envelope of a virus, interfering with its ability to complete its attachment to its target human host cell.
VIRAFEND'S ACTIVE INGREDIENT – ACTIVATED HUMIC ACID – IS A LOW MOLECULAR WEIGHT POLY-ANIONIC MOLECULE THAT OCCUPIES THE POSITIVELY CHARGED DOMAINS OF THE VIRUS ENVELOPE GLYCOPROTEINS WHICH ARE NECESSARY FOR VIRUS ATTACHMENT TO THE HOST CELL SURFACE.
ViraFend® is a natural product, mined from the earth, that has been used for thousands of years in Oriental and Indian / Ayurvedic medicine, and for decades by Western medical practitioners, but has not been exploited by 'big pharma' as it cannot be patented in its natural state; there are more than 50 years of hard Western science, clinical trials and medical studies showing its effectiveness as a Virus Attachment Inhibitor against a wide range of viruses that affect humans and animals.
The active ingredient in ViraFend® – Activated Humic Acid – has been purified, standardized and activated for maximum potency, and it has been extensively tested for safety and efficacy.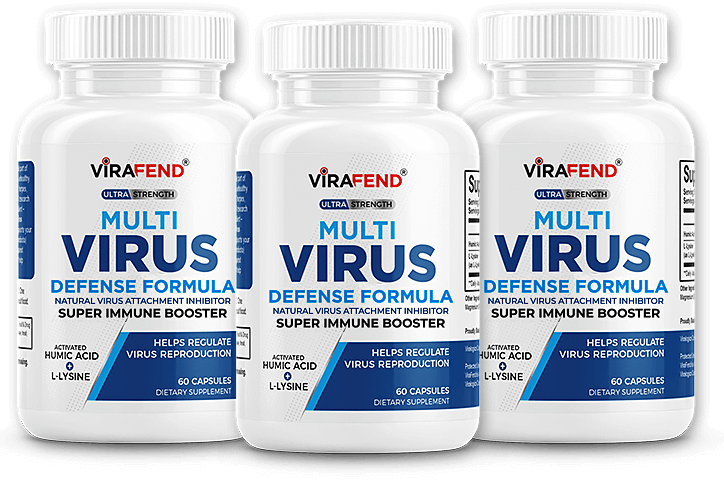 ViraFend® Virus Defense Formula is a vegetarian capsule taken as a dietary supplement twice a day (one tablet 2x per day), with or without food. There are no known side effects, and ViraFend® can be taken with any other medication, including antiviral prescriptions such as acyclovir if you desire. Please read the Directions for Use here.
In addition to 200mg of pure humic acid per capsule, each ViraFend® capsule also contains 75mg of pharmaceutical grade L-lysine, an essential amino acid that counters the levels of L-arginine in the body, to provide an additional immune system boost for defense against virus reproduction. L-arginine is a key nutrient viruses require to reproduce, and high levels of L-arginine can stimulate the reproductive activity of viruses in the body. L-lysine can help counter high levels of L-arginine naturally to help keep viral loads low.